With the introduction of Goods and Services Tax(GST) impacts have been widespread and financial services are not an exception. Under this new tax regime, consumers will have to pay additional charges for opting banking services, insurance premium payments and credit card bills. Under the new indirect tax regime, higher tax of  18 percent is attracted against the previous 15 percent on almost all the financial services. The same applies to life non-life premiums.
"Dear policyholder, revision of service tax on account of GST will come to effect from July 1, 2017," said a Life Insurance Corporation of India (LIC) message.
Punjab National Bank (PNB) informed its customers that "with effect from July 1, 2017, the existing service tax of 15 per cent levied on all the banking services will be replaced by a GST of 18 per cent." Meanwhile, HDFC said, "GST is being implemented from 1 July 17. In accordance, Service Tax of 15% will change to 18%. Provide GSTIN for your a/c @ customercare@hdfcsec.com."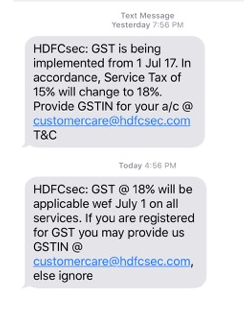 The new tax rates are kept informed to the customers through mails and messages by almost all banks and insurances companies. Among the banking services that will attract increased service tax are- debit cards, cash handling charges, collection of bills, issuance of cheque, ATM withdrawal beyond the number of free services, locker rentals, issuance of cheque/ books/ drafts/ duplicate passbooks, home loan processing fee, collection of outstation cheques and SMS alerts.
Reflecting on the implementation of GST, Chanda Kochhar, MD & CEO, ICICI Bank said, "The Goods & Services Tax is a transformational structural reform which will have multiple benefits – the creation of a national market; enhanced ease of doing business; greater productivity & efficiency; and improved tax compliance. All stakeholders are working together for a seamless transition to this new paradigm. This reform will result in benefits for all participants in the Indian economy, including both businesses & consumers."
On June 30, midnight, India witnessed the inauguration of GST in Central Hall of Parliament at a special midnight ceremony. GST was addressed as "Good and Simple tax" by Prime Minister Narendra Modi. He added that GST will  "not only be a tax reform but an economic and social reform as well" that will unify the nation, "check corruption and end harassment at hands of officers".
President Pranab Mukherjee, Vice-President Hamid Ansari, Union Finance Minister Arun Jaitley, Speaker Sumitra Mahajan, former Prime Minister H D Deve Gowda, MPs and other VIPs were present during the grand event.