WHAT ARE CROSS CURRENCY SWAPS?

A cross currency is an over the counter(OTC) derivative in the form of an agreement between two parties to exchange the interest payments and principal on loans denominated in two different currencies.The payment of interest can be made at different rates, like either fixed or floating rates and at different frequencies.They are motivated by comparative advantage.At the initial or origin of swap through an agreement, the counter parties exchange notional principals in two currencies of their choice.During the life of the agreement, each party pays interest to the other.For example,if a India-based company is looking forward to acquire some dollars and a US-based company is looking forward to acquire some Indian rupees these companies could perform a swap.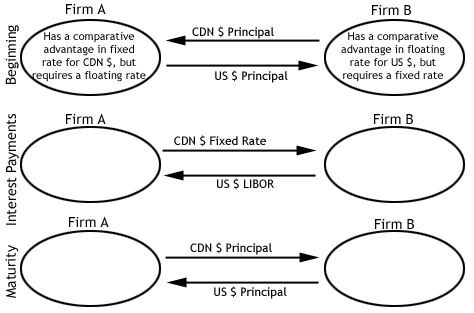 A currency swap should be distinguished from a central bank liquidity swap.There is an increase and a wide range of acceptance as essential risk management tools by financial institutions,corporations engaged in foreign direct investment.  etc.It is purely composed of two legs- receiving and paying leg.Cross currency swaps is one of the best way to fully hedge a loan transaction as their  terms can be structured to exactly mirror the underlying loan..They are said to be an alteration of the cash flows that is associated with the payments and not a source of capital itself.There is no physical exchange of two currency flows in a non-deliverable swap(NDS).Instead,the USD equivalent of  the local currency, which is determined at the spot rate on the date of payment and the net is paid to the appropriate party.
Theoretical swap rate= present value of future rate cash flow
                                               n  
                                             Σ,  national price x days  x  df
                                           1-1                            360           1               
Market value that effect swap pricing includes changes in the level of interest rates,changes in swap spreads,change in shape of interest rate yield curve and exchange rates.Also, like forward and futures contracts, swaps are priced to have a value of zero at inception. There are a number of swaps namely- amortizing swap, step-up swap, credit default swap, compounding swap, fixed or floating currency swap, equity swap, puttable swap and swaptions. Finally, if the buyer is wishing to exit the swap, he can enter into an offsetting swap with the original counter party or whoever offers the best price.
The swap involves three important elements:
The initial exchange of principal: In the initial exchange, decisions on the mode of coupon payments method are made. It can be fixed vs fixed, fixed vs floating, floating vs floating and is usually driven by the demand of international funds flow.They have significant settlement risk exposure from the high value of the initial and final principal exchange.
Interest payment:Here, the value is derived from current spot rate and forward interest rates.If the firm thought that the price would rise or fall, it would enter into a swap agreement and pay fixed to receive floating, or floating to receive fixed, in order to protect it from rising debt service payments or to take advantage of lower debt service payments respectively. Here no principal is swapped only the coupon payments.As said earlier,swap itself is not a source of capital, but can be put across as the alteration of cash flows associated with payments. Interest rates are interrelated to foreign exchange forward rates and foreign exchange spot rates by interest rate parity(IRP) principle. 
The final exchange of principal:The total return of assets in periodic cash flow includes floating or fixed rates such as LIBOR rates.Since most swaps are executed on large notional amounts, this could put the payer at a risk of hedge fund's default if the fund is not sufficiently capitalized.
  RISKS ASSOCIATED WITH SWAPS
 Interest rates changes can cause the gap position of a bank or a firm to change.Thus, the  swap's effectiveness can change.In other cases, the  other party may not want to exchange the same amount of cash flows.
 PROS AND CONS
There is no upfront cost, meanwhile it is highly credit intensive.
These arrangements expose users to interest risk and credit risk, but at the same time reduce transfer risk.
Client is hedged against foreign  exchange risks in terms of both principal  and coupons as the swap locks in current market price,but liability risk and interest rate risk comes into picture when the swap payments are due and floating rate on payment leg is higher than receiving  leg.
 For simple and better understanding, refer to the images below:
 In the above structure,there is a cross currency swap between USA and INDIA in USD(dollars) and INR(rupees).USD of 10 million dollars is  exchanged at a rate of 6%  paid by US banks to INR value of 450 million as per the spot rates at 7% paid by Indian banks.It is a simple example of  currency swaps between countries that help them to enter into foreign markets and have a standard place globally.
 THESE ARE THE STATISTICS OF CROSS CURRENCY TRANSACTIONS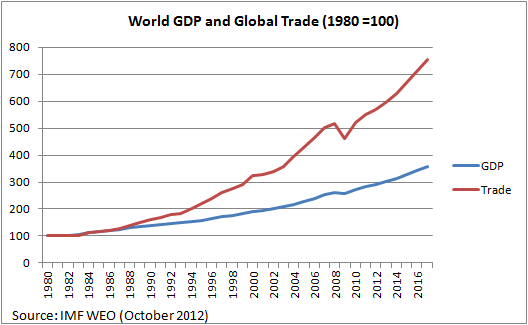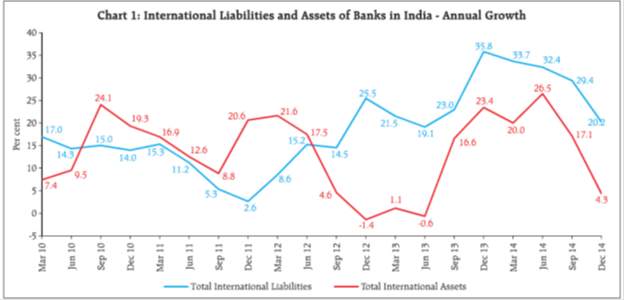 The statistics above explains the annual growth of international liabilities and assets of banks in India.The red line indicates total international assets and the blue line indicates the total international liabilities.We can notice that the liabilities are high in 2010, and with the efforts made to reduce them, there has been a significant decrease in 2012-2013, which has been maintained with an average of 25-30%.The total assets had a significant growth from the past few years. These statistics establish how cross currency transactions are gaining importance and are having a rapid growth in India and globally .The RBI  in India has taken steps to increase cross currency pairs in order to facilitate efficient hedging.This also has a major role in shaping the global market in a more efficient manner.